Audit Services
Website Audit
SEO Audit
Uncover Hidden Potential
Website Audit
Keyword 1
Your Website Should Be Running On All Cylinders to Get it Everywhere It Needs to Be. Website Audit — Now $50 off!
Quite Possibly the Best $99 You Ever Spent
There are a lot of features and functions required for your website to run smoothly and attract the customers you need to survive. If yours isn't delivering the amount of traffic you'd expect, or you're only getting tire-kickers instead of buyers, it could be because of problems with your site's architecture or navigability, poor or outdated SEO structure, or some other performance problem you weren't aware of. We'll open up the hood to look at over 50 critical elements, after which we'll create a customized report with practical advice on how to improve your site's performance and increase its conversion rates.
Website Audit & Quality Review
This specialized service offers you the chance to get a professional perspective on the intricacies of your website, without breaking the bank. We developed our website review procedures based on current industry best practices and over a dozen years of website design and search engine optimization experience. We'll provide you with expert tips and tricks that will enable you to:
Improve SEO performance
Enhance usability and functionality
Convert browsers into buyers and boost per-customer sales
Ensure browser compatibility
Advance your search engine rankings
The Website Audit Package includes a review of more than 50 elements within these categories: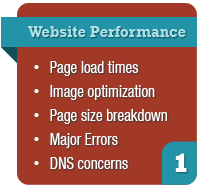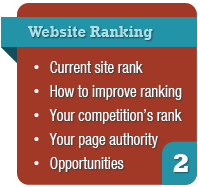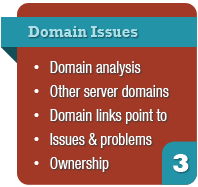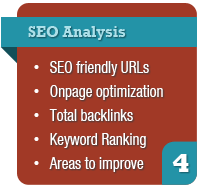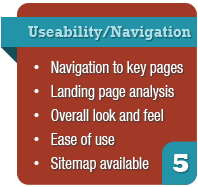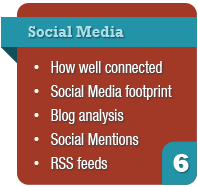 Once we have finished reviewing
Once we've completed the review, you'll receive a document that scores your site's performance in all the key areas that affect your website's marketability and performance. You'll know the good, bad and the ugly. You'll get a report that tells you what issues exist, how important the issues are, and how to put together a manageable plan. We'll include actionable items you can fix yourself, as well as an estimate of what it would cost to have us perform each portion of the work.

Plus, a special bonus included with every Website Audit Package is our own guide "Powerful & Free Online Web Services You Can't Afford to Be Without". In this free guide, we will show you how to:
Track your visitors, page views, and errors;
Work with Google, Yahoo and Bing to make sure your website is working well from their perspective;
Detect if your website server goes down.
Monitor the number of backlinks coming in to your website